Building Hope Caring Compassion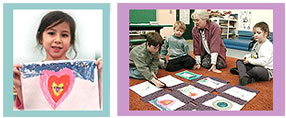 e-NEWSLETTERS and related links
Updated 11/19/2011
Quilt project goes global, Teacher helps kids reach out to others
May we reach farther into our hearts and souls to help others. Thank you all for helping do what we can to teach about caring and compassion.
Thank you for opening your heart to learn about children enslaved in rug factories in India, fishing villages in Ghana, children living in trash heaps of Port Elizabeth, South Africa, dalit orphans in South India, Iraqi refugees in Jordan, and in Iraq, those still in FEMA trailers in the United States, hurricane Felix victims in Nicaragua, children in Togo, Niger, and many many more of those in need.
-With much love and gratitude,
Judith Biondo Meeker
For more information on how to arrange to have Judith do a workshop or class. One class lor a week of extended activities including writing to recipients, map fund, and a powerful storytelling experience about the lives of children and women receiving quilts. Students participating range from pre-K to college, as well as teacher education programs and Multicultural Literature college classes. A thematic unit is available with lesson plans here on her Web site. Workshops and in-service teacher training are also available.

For more information or questions
please contact:
More Than Warmth
Judith Biondo Meeker
info@morethanwarmth.org
Fax 615-799-7729
More than Warmth is an educational project for students of all ages to learn about world cultures. It fosters understanding, knowledge and compassion among cultures through nonviolent, nonpolitical, and nonreligious means.
"More than Warmth" (Más que calor) es un proyecto educativo para estudiantes de todas edades para aprender sobre culturas del mundo. Fomenta la comprensión, el conocimiento, y la compasión entre culturas por medios no violentas, no políticos y no religiosos.
"More than Warmth" (Mehr als Wärme) es ist ein erzieherisches Projekt für Studenten aller Alter, um Weltkulturen zu lernen. Es fördert das Verstehen, das Wissen, und die Mitfühlen zwischen Kulturen durch ungewalttätiges, unpolitisches, und unreligiöses Mittel.
Sign Up for our e-Newsletters now!
Over 11,000 students have been involved. Students of all ages can participate in this artistic expression of friendship. Photos of some of the hundreds of quilts made by children.
Discover how the quilts are made. You can now send a quilt directly to Tibet. LEARN more.
We create a forum allowing American students a place to process international events. While helping to create a growing awareness of world cultures, students also learn about regions of strife and conflict in the world. More Than Warmth offers students a chance to effect positive change in their world.
The first children's quilts and letters were given to a friendship center in Kabul, Afghanistan, on March 8, 2002. Letters written by students were translated and shared with hundreds of children touring the center. Quilts have also been given to schools for girls, orphanages, daycare centers, schools for the deaf, street children, and trauma centers.
In June, 2002, a cultural center in Bethlehem displayed a quilt created by American children with a poem expressing hope for peace in the Middle East. Students are also able to discuss how violence in the world affects them. For example, African American students of all ages in East Nashville sewed quilts to send to areas of Africa. While learning about the civil wars in Africa, the students acknowledged the violence and need for change in their own neighborhoods. Students at Cook Elementary in Atlanta, Georgia chose to make quilts for children in Afghanistan and Iraq.
Thank you -- all you More Than Warmth heroes. It has been years and we have created a few waves of compassion in reaching almost 10,000 students, and sending almost 1,000 quilts. It could not have been done without your efforts.

More Than Warmth project founder and school teacher Judith Biondo Meeker holds one of the first quilts made by her students to be sent to Afghanistan. Read more...

615-975-3880
More than Warmth
110 Fifth Rd.
Summertown, TN 38483

More than Warmth is a 501(c) 3 under the Farm School in Summertown, Tennessee