Building Hope Caring Compassion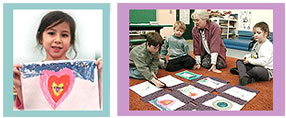 More Than Warmth is a 501(c)3 not for profit organization under The Farm School, Summertown, TN
Since 2001, quilts have been sent as gifts from over 11,000 students
How You can help
There are many ways to participate in this project, from cutting squares to making a quilt at your school or home. Please contact us by email if you would like to be a part of the More Than Warmth project.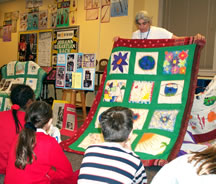 Would your school or church like to make quilt? Please contact us. Would you like like to donate cotton fabric? Please let us know.
Sponsor a class to make a quilt for a small donation of $25.
Although quilts will be hand carried to children, tax deductable contributions to help ship the quilts to US designations would be greatly appreciated.
If you would like to make a monetary contribution, please contact:
More Than Warmth
Judith Biondo Meeker
info@morethanwarmth.org
Fax 615-712-6241
Ship quilts/ squares/ packets of letters to:
More than Warmth
110 Fifth Rd.
Summertown, TN 38483