Article—Sunday, November 26, 2006 The Daily News Journal.
Northfield students spread warmth around the world
By JASON BRUNNER
Special to The Daily News Journal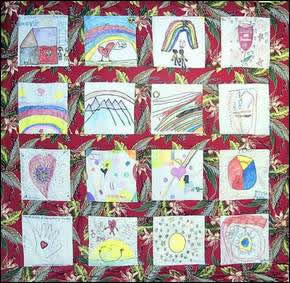 Photo submitted
This is one of the quilts created by Northfield Elementary students.
Students at Northfield Elementary in Murfreesboro are sending messages of peace and love, as well as warm blankets, to needy children around the world.
About 225 fifth- and sixth-grade students participated in the More Than Warmth project. The nonprofit program "fosters understanding, knowledge and compassion among cultures through nonviolent, nonpolitical and nonreligious means," according to the program's Web site.
Northfield Elementary art teacher Lise Triggs said she inserted the program into her curriculum last year after learning about More Than Warmth from founder Judy Meeker, a teacher for Metro Schools, at an exhibit in Nashville.
Although Triggs funded the project herself last year, this year she received a $1,000 grant from the Tennessee Arts Commission for material and supplies.
For the project, each child used fabric markers to create messages conveying hope and peace on individual squares of fabric, said Triggs, who then sent the completed squares to Meeker to be quilted — a task paid for by some of the grant money.
"The kids learned that they could help other people. It's a real way to help. Art can be very healing and very comforting," Triggs said.
Thus far, four large quilts and seven smaller ones were made this year. Some of the coverings have been sent to places such as Afghanistan, New Orleans and several African countries.
In an effort to spread the word about the More Than Warmth quilts, Triggs said she contacted Dr. Lon Nuell, MTSU art professor, who helped arrange for some of the children's quilts to be displayed on the university campus.
"(Mrs. Triggs) has found it's a very beneficial activity for all the children, because it teaches them about children like themselves who have less than they have, who have need of things," Nuell said.
Triggs said she plans to keep the program going at Northfield and has talked to art teachers from other schools about starting their own projects. Allowing students to help others in need has been rewarding for all involved, noted Triggs, who added, "If children were negotiating, we'd probably have more peace in the world."
Three of the student-created quilts are on display now through early December on the second floor of the Andrew L. Todd Hall on the MTSU campus. Other quilts created by the local students are on display at the Rutherford Bank and Trust, 372 W. Northfield Blvd., and at the Murfreesboro City Schools Department of Instruction, 2552 S. Church St., throughout November.
For more information about the More Than Warmth project, access its Web site at www.morethanwarmth.org.