Building Hope Caring Compassion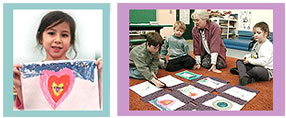 Lesson Plans
Mother Teresa's prayer, is an adaptation of the Prayer of St. Francis, that clearly shows the path to peace:
"When I am hungry, give me someone that I can feed.
And when I am thirsty, give me someone who needs a drink.
When I'm cold, give me someone to keep warm.
And when I grieve, give me someone to console."
What: A local group, More than Warmth, and the Chinese School of Nashville — at H.G. Hill Middle School on Saturday mornings — have made quilts for new babies in Tibet. They were sent to midwives specially trained to lower the rate of infant mortality there.
Who: More than Warmth, a local grass-roots program, has sent quilts to children in Afghanistan, Israel, Iraq, Jordan, Zambia, Switzerland and other foreign counties. In the past three years, more than 5,000 children have participated in the quilt project by drawing pictures onto muslin fabric squares with permanent markers.
When: Students from the Chinese School of Nashville worked on Saturdays earlier this year to make the quilts.
Why: The project was designed to teach children about different cultures and give them a chance to reach out to children in another country.
How: For more information or to inquire about doing a quilt project, check out this web site www.morethanwarmth.org.
Lesson Plans

Title: "More Than Warmth" K-12 grade, Interdisciplinary Theme Unit- Raising Global Awareness

Title: "Slavery Today" K-16 grade
Through social studies, art and literature students create a tangible group project. A quilt and booklet of letters connects with children across geographical and political boundaries.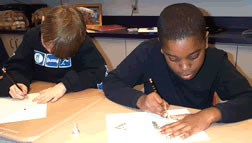 Goals:
| | |
| --- | --- |
| > | Focus the student's interests in the greater world. |
| > | Encourage higher order thinking using reflective inquiry. |
| > | Capture wonder and excitement through interactive subject matter of a culture. |
| > | Emphasize the student as a world citizen. |
| > | Provide a variety of hands on activities to get students involved in problem solving. |
| > | Promote problem solving through open-ended and extended- answer questions. |
| > | Involve child in discussion on current issues. |
| > | Promote cooperative problem solving activities. |
| > | Expand the student's horizon of a culture through storytelling, research, art, economics, and practical activities. |
Lesson Plan

I. Descriptive course data:
K-12 grade, Interdisciplinary Theme Unit- Raising Global Awareness

Title: "More Than Warmth"

II. Goal/Objectives:
General: Emphasize the student as a world citizen by engaging them in stories of people and
cultures from around the world.
Specific: To connect art to other curricular areas.

III. Introduction/Instruction:
Motivator/Hook: Engage the students in current events in the media to
create an awareness of the world's news. Discuss what is
happening in Afghanistan, Iraq, India, African countries . . . : the hardships
third world people face in their daily life.
Allow the students a chance to discuss what they think.
Content: Through map identification, letter writing, art, and
discussion, the students will relate to a culture
different than their own.
Key points: By focusing the student's interest in the greater world the
student will realize their place as a world citizens, will be able to
participate in world affairs, and learn higher order thinking using
reflective inquiry.
IV. Activities:
Listed: Interdisciplinary activities with additional ideas enclosed.
V. Practice:
Guided and Independent: Through lecture, group work, seminar, and
centers, the students will experience various learning methods.
Homework: Independent research and completion of map (optional),
completion of letter to a child, and a picture idea for their
quilt square.
VI. Evaluation:
Teacher observation of student participation; questions asked by students,
teacher observation of art centers, and written work on letters.
Quilt square drawing on muslin
Letter to child in another land
VII. Resources/ Materials:
World maps to color.
Maps and globe in the classroom
Paper and crayons for "cartoon"
Cotton muslin (white or natural) 12 ½ inches or 10 ½ inches square
Permanent fabric markers in various colors
Colored fabric for borders


VIII. Revision: _____________________________________________________