Building Hope Caring Compassion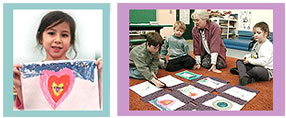 The quilt was presented to the children of the Huichol Center School during a school party.
They were told it was 'una carta de amor y paz desde nuestra comunidades en el otro lado, y hecho por ninos de sus edades'.
'A letter of love and peace from our communites on the other side of the border made by children of their ages'
Read more about a Plenty project working with Huichol Center staff to develop recipes utilizing soybeans, soymilk, tofu and texturized vegetable protein (soya seca) that local Huichol and urban and rural Mexican families would readily integrate into their traditional meals.
Mexico
Afghanistan
,
Africa
,
China
,
India
,
Iraq
,
Israel
,
Jordan
,
Mexico
,
Nepal
,
Nicaragua
,
Sudan
,
Swaziiland
,
Tibet
,
Thailand
,
United States
Aqua Prieta, Mexico

Twenty colorful and beautiful quilts were made and transported by the great heart of Judith Gerboth of Arizona, and friends, to Aqua Prieta, Mexico
| | |
| --- | --- |
| Presenting the quilt to the children and telling them what each square says. | |