.
Building Hope Caring Compassion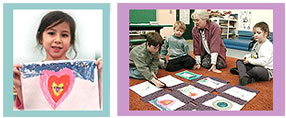 NEWS:
Sign Up for our e-News!
Since 2001, quilts have been sent as gifts from over 11,000 students to:
Afghanistan
Iraq
Iran
India
Pakistan
Israelis and Palestinians
Jordan
Burkina Faso
Zambia
Swaziland
South Africa
Mauritania
Ghana
Uganda
China,
Tibetans
Nepal
Vietnam
Thailand
Haiti
Cuba
Mexico
El Salvador
Guatemala
Nicaragua
Belize
Bolivia
Columbia
Venezuela
Ireland
Romania
North Korea
Togo
Syria
Niger
Sudan
Chad
Rwanda
USA: Indian Country and Katrina Victims in
Louisiana, Mississippi, and New Orleans
Related Links:
gandhipeacefoundation.org- Gandhi Marg is the premier quarterly Journal of Gandhi Peace Foundation published from New Delhi. It is a peer reviewed journal with a global focus and wide compass, and solicits papers from a range of disciplines from contributors all over the world.
buildpeace.com - Peace Builders Inc. sends large shipments of aid to orphanages in war-torn countries and to disaster-stricken areas.
peacefultomorrows.org - An effort to give a face to those living in war as well as allowing students the opportunity to see how their similarities far outweigh their differences.
peaceroots.org - Seeks to create a peaceful, just and sustainable world for future generations by emphasizing our common humanity, promoting non-violence and working to remove the root causes of war.
The poster can serve many purposes: lesson planner, teach-in display, reference wall map, neighbourhood conversation starter, fund raiser, etc. The poster contains 25 country profiles, 29 maps and 75 graphs and charts.
The briefing sheets may be duplicated and used free of charge as long as they are used as is and unchanged - including the copyright/contact info.
Artist in Residence - Judith Biondo Meeker
For more information on how to arrange to have Judith do a workshop, class or school residency. Residencies in schools may be one class long or a week of extended activities including writing to recipients, map fund, and a powerful storytelling experience about the lives of children and women receiving quilts. Students participating range from pre-K to college, as well as teacher education programs and Multicultural Literature college classes. A thematic unit is available with lesson plans here on her Web site. Workshops and in-service teacher training are also available.
2013 Newsletters:
August - Understanding, Knowledge, and Compassion Between Cultures
2012 Newsletters:
November - Zambia
March - International Quilt Day
February - Ten Year
2011 Newsletters:
October - Sudan and Haiti
January - Haiti and Afghanistan
2010 Newsletters:
June - More Than Warmth Quilts
January - Haiti and Afghanistan
2009 Newsletters
February - Reaching Out Hands Around the World
January - Celebrating Children Learning Compassion and Caring
2008 Newsletters:
October - Hands Around the World
September - Teaching the Power of Love Over Violence
August - Ghana Slave Survivors
July - Quilts travel to Uganda, Northern Zambia, El Salvador, Honduras and New Orleans
June - Nicaragua, Aftermath of Hurricane Felix
March - NBC's Better.TV
2007 Newsletters:
December - More than Warmth in Guatemala City
November - Quilts have been made with over 11,000 students of all ages and sent as gifts to...
October - The History Channel Announces "Take A Veteran to School Day, A New National Initiative
September - Raising funds for the victims of Hurricane Felix
August - From Teens in the Philippines to Afghanistan
July - Kevin Bales, Free the Slaves founder and president, will be featured in Prime Time Live
June - We began making quilts in my classroom in 2001 because people were freezing
April/May - Let them solemnly take counsel
March - Agents of Change
February - More than Warmth Exhibits
January - Afghanistan: This year, over 100 quilts have been sent to children in Afghanistan
NEWS Articles:
January 5, 2009 - Quilt project goes global, Teacher helps kids reach out to others
TheTennessean By Andy Humbles
July 10, 2008 Community Briefs: Local students craft quilts
The Sonoma Sun
February 23, 2007 Exhibit follows quilts from Tennessee to Tibet, and beyond
By Theresa Laurence
November 26,2006 - Northfield students spread warmth around the world
By JASON BRUNNER Special to The Daily News Journal Murfreesboro,TN
Davis: Quilts bring warmth
The Daily News Journal, Murfreesboro, Tennessee
August 2006:
Making quilts in Tennessee
Kids to the Country project of Plenty International make quilts in Summertown while learning about children in Africa.

MaryEllen Bowen of KTC/Plenty
Sizwe Herrring Kids to the Country Urban Coordinator
June 2006:
Two WAND quilts have been exhibited at the National Underground Railroad Museum, in Cincinnati, Ohio (March to June 2006).
April 2006:
Cameron kids draw to help others
Fairview's Meeker spearheads project
January 2006:
Elementary students create quilt
By HOLLY TKACZYK
Cesar Chavez Day, March 31, 2005 is an opportunity to make quilts with Judith Biondo Meeker, founder of More Than Warmth project featured on "Tennessee Crossroads," "Zoom," "Quilt Central," and Time Magazine."
"Aptly named, 'More Than Warmth,' this project is having an incredible impact on young people as it not only enlightens them about those living in conflict-ridden areas of the world, but it also empowers them to effect positive change." - The Standard, Modern Red Schoolhouse, Volume 6, Issue 1, September 2004.
Article—March 19, 2004 The Tennessean, Project helps students learn about slavery
Plenty from The Farm has been delivering food, supplies, and yes, even quilts in Louisiana.
In collaboration with Plenty, and donations from classrooms More Than Warmth helps to facilitate feeding nutritious meals to the Noor Hospital Day Care Center in Kabul, Afghanistan
Photos from China To celebrate Asian Pacific American month in May 2004, two local non-profit organizations - the Chinese Arts Alliance of Nashville and More Than Warmth - join together to help children learn more about the people of China and Tibet.
Making a stand for world peace: Fourth graders at Charlotte Elementary School are making a stand for world peace one quilt square at a time.
Boxes of quilts have come in from the East Anchorage United Methodist Church, Anchorage, Alaska, another from a homeschooling family in Wisconsin, along with four from the Cradles to Kids program.
Article—January 17, 2003 Tennessee Catholic Registe,r Afghan Children Receive 'More Than Warmth'
Article—September 11, 2002 Atlanta Constitution, Children continue to finding ways to help others
Article—February 18, 2002 TheTennessean, Quilts piece together cultures, countries
Twenty quilts have been shipped to Aqua Prieta, Mexico, from friends in Arizona, with 15 quilts to Lusaka Africa, India, and Kabul, Afghanistan's Rabia Balki Hospital.