Testimonials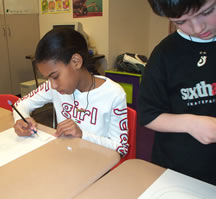 The More Than Warmth project is the collaboration of many minds, hearts, and souls. It is a project that has no bounds.

Since we began this effort almost three years ago, we have sent a lot of quilts, talked with a lot of students, and made a lot of friends. We have also learned about heartbreaking situations around the world. Over 500 quilts have been sent since we began, representing over 5000 children . Thank you all for your help in this effort.
====================
Judith Biondo Meeker has also demonstrated that craft is a marvelous way to build world peace and provide children with a means of understanding and responding positively to the world around them. ... In workshop after workshop, Judith introduces American school children to an area of the world where people their own age are suffering-from poverty, war, natural disasters or traditions of child enslavement ... By making these quilts, these children realized they could make a genuine difference, and this provided them with hope and a sense of connectedness...
Bianca - Australia Homespun
====================
I really admire your extrordinary support to my people in Darfur and other survivors in whole Sudan. I believe together we will make a remarkable difference in the future. I have received the gifts you sent, just right now, 3 pieces, one for me and the small ones for my people in Darfur. I will do my best to send them to the school kids, and let you know.
What was done by your kids, school students is very inspiring and we will never ever forget this warm love and compassion. Your beautiful words are so touching, and this will give our kids the hopes of peace and dignity, and will feel that they are not alone.

I would like to thank you and your lovely students for the beautiful letters they have sent to me. I'm so glad and proud of all of them for their appreciation and nice consideration.I consider these letters as a symbol of awards or as medals that I will be very proud to keep them for ever. Please send my warmest greetings and highest appreciations to every single student in your school.
Mohamed - Sudan
====================
I was doing my student teaching this year, and we had an arts project to make something that represented our teaching philosophy. I got into the idea to make a quilt, because my philosophy is centered around multiculturalism and global awareness, and many cultures make quilts. As I was searching online, I came across your website, and I was so impressed with the quilts and letters students had made for people in Iraq and Afghanistan. A couple months later, the opportunity came up to do the project in my 2nd grade class. So I did, and it went so well. I incorporated it into my Masters inquiry project. Thank you again for providing a wonderful experience for myself and my students.
Nadia - San Diego, United States
====================
Thank you so much for all of them (the quilts). They went to two places, an Aids orphanage in Port Elizabeth and a clinic in Umtata that takes care of the poorest of the poor. They all live in shacks made from tin, cardboard, bits of car whatever will protect them from the elements. All the new moms got quilts it was the only way I could share and make it equitable. The orphanage is at The House of Resurrection Haven. An orphanage in Port Elizabeth, Eastern Cape Region, Port Elizabeth, SouthAfrica.
Kima - SouthAfrica
====================
I have to say, the children ( kindergarteners) loved doing this quilt and expressed such deep concern for the children that need it. I was totally moved by the project and look foward to doing one this year. We talked about their drawings ahead of time; discussing the fact that birds and rain drops would look like planes and bombs etc. Please give me feedback if future drawings should be modified even more. Thanks.
Margot - California, United States
====================
In my summer camp of 2004 the class made 4 quilts. We had a wonderful lady named Susan Milliner who volunteered her time and the materials that sewed the squares we created into a quilt. We then sent the quilts to www.morethanwarmth.org
Ours went to India, Afghanistan and Africa. I just received a picture of a quilt being handed out to orphans in Zambia. When I saw the picture it made me realize that I really was a teacher this past summer. What a wonderful thing to learn..humanity and kindness. This will truly be something that will forever stand out in my life as a great moment in my time on earth. I wanted to share the picture with you.
AKA MS. Kimberly - Texas, United States
====================
Thank you for your kindness and the effort with which it was delivered. It was received with much love and appreciation by these children (living) up in a volcano."
Michael - Tennessee, United States
====================
Hello, I ended up giving the quilts to the orphanage that I am working at, Namaste Children's House. They are being used on the beds in the medical room, which is in constant use and they are well loved. Take care, Namaste.
Pokhara, Nepal
====================
Dear More Than Warmth Heroes: First let me tell you how impressive you are, doing such work in the name of love. I want you to know that you have been in my prayers many times.
While doing research for a graduate education class last year, I came across your website and was struck by its value, not only to my own children, but to students of various ages as well. Not only was your quilting project part of an entire quilting unit that I planned, but I convinced my daughter's third grade teacher to let me create a quilt in her class! Here in [New York] an entire class of eight year olds had fun and worked hard making the enclosed [quilts]! Your project has led them to grow as people of this world.
Once again, what you are doing is both impressive and inspiring, and I thank you for helping to show the children in Northport that we can all do to make the world a better place.
New York, United States