.
Building Hope Caring Compassion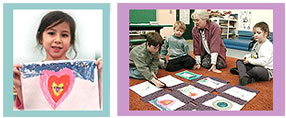 Since 2001, quilts have been sent as gifts from over 11,000 students to:
Afghanistan
Iraq
Iran
India
Pakistan
Israelis and Palestinians
Jordan
Burkina Faso
Zambia
Swaziland
South Africa
Mauritania
Ghana
Uganda
China,
Tibetans
Nepal
Vietnam
Thailand
Haiti
Cuba
Mexico
El Salvador
Guatemala
Nicaragua
Belize
Bolivia
Columbia
Venezuela
Ireland
Romania
North Korea
Togo
Syria
Niger
Sudan
Chad
Rwanda
USA: Indian Country and Katrina Victims in
Louisiana, Mississippi, and New Orleans
These web site links are listed as a convenience to our visitors. If you use these links, we take no responsibility and give no guarantees, warranties or representations, implied or otherwise, for the content or accuracy of these third-party sites.
Related Links :
gandhipeacefoundation.org- Gandhi Marg is the premier quarterly Journal of Gandhi Peace Foundation published from New Delhi. It is a peer reviewed journal with a global focus and wide compass, and solicits papers from a range of disciplines from contributors all over the world.
buildpeace.com - Peace Builders Inc. sends large shipments of aid to orphanages in war-torn countries and to disaster-stricken areas.
peacefultomorrows.org - An effort to give a face to those living in war as well as allowing students the opportunity to see how their similarities far outweigh their differences.
peaceroots.org - Seeks to create a peaceful, just and sustainable world for future generations by emphasizing our common humanity, promoting non-violence and working to remove the root causes of war.
The poster can serve many purposes: lesson planner, teach-in display, reference wall map, neighbourhood conversation starter, fund raiser, etc. The poster contains 25 country profiles, 29 maps and 75 graphs and charts.
The briefing sheets may be duplicated and used free of charge as long as they are used as is and unchanged - including the copyright/contact info.
Quilting Links :
waterlooquilts.com - Waterloo Quilts sells only handstitched quilts which are handmade by our Mennonite ladies within Waterloo County, Ontario, Canada. We hope that you enjoy browsing through our selection of quilts.